Fire Hydrant Control Panel
This Panel with DOL, STAR-DELTA, ATS, SOFT STARTER, VFD starters.
Provision of Main Pump, Jockey Pump, Sprinkler Pump, Booster Pump, Engine Driven Pump.
Automation with Pressure switch.
Facilities of different control voltage with control transformer control Bus.
With type-2 co-ordination wherever required.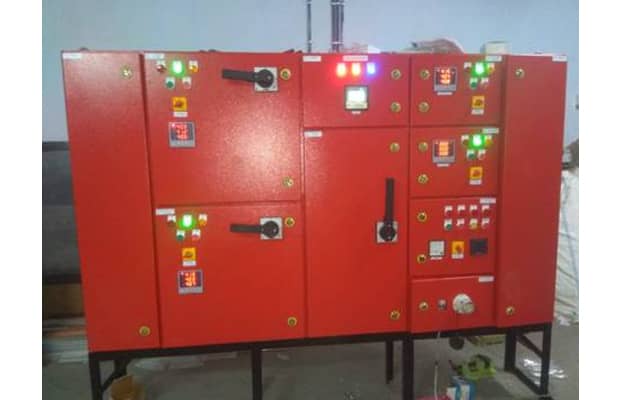 Technical Features
Construction Details
Modular with Non- compartmentalized / Semi- compartmentalized / Fully- compartmentalized construction.
Panel structure with MS CRCA/SS.
Indoor / Outdoor type Structure.
Single front/double front Operated.
Provision for Extensible for future use.
Provision of Rubber Gaskets to meet IP requirement like IP-42/52/54/55/65.
Arrangement for heat dissipation by means of Exhaust Fan or Lowers.
Pre Treatment And Painting
Three Tank / Seven Tank Pre treatment process.
Final paint shade as per IS or client specifications
Synthetic Enamel / Epoxy based primer / Powder coating as per customer's requirement
Bus Bar Arrangement & Cable Alley
Electrical Grade Aluminum / Copper Busbar
Main busbar chamber at top / bottom of the Panel
Separate chamber for vertical dropper
Busbar System design on basis of continuous Current rating and Fault level with stand capacity
Allowable temperature rise as per IS 8623 or as per specifications
Busbar supports of SMC/DMC Material
Top / Bottom cable entry. Detachable gland plate for cable entry
Assembly & Wiring
Selection of components from Approved / Reputed vendor list as per Approved Drawing
Design of Internal Layout fo optimum usage of space
Internal wiring with 660/1100 v Grade PVC coated stranded Copper Flexible Wires
Crimping Lugs are used for intrnal Connections / Terminations
Quality Assurance & Control Systems
Inspection of Fabrication structure for dimension as per approved G.A. drawing
Inspection of Painting / Powder coating