Electric Control Panel Manufacturer, Ahmedabad, India
An electrical device called an electric control panel is used to manage and distribute electricity to different electrical systems throughout a building. It serves as a hub for management and control of electrical systems. Circuit breakers, fuses, relays, and timers, among other electrical control devices required to manage the flow of power, are intended to be housed on the panel. To monitor and manage the facility's different electrical systems, the control panel also has instrumentation and control systems including thermometers, pressure gauges, and timers. A facility's electrical infrastructure must include the electric control panel, which is crucial for the safe and effective operation of the electricity.
Panel for electrical control Better Explained: What It Is and Why You Need One
The control cabinet is necessary because it helps to regulate the distribution of electricity in the building, ensuring the safe and efficient operation of electrical equipment. It provides a convenient location for connecting and disconnecting electrical equipment and protects against power failure by automatically disconnecting power in the event of voltage surges or overloads. Additionally, the control panel makes it easier to monitor and diagnose electrical problems and improving safety.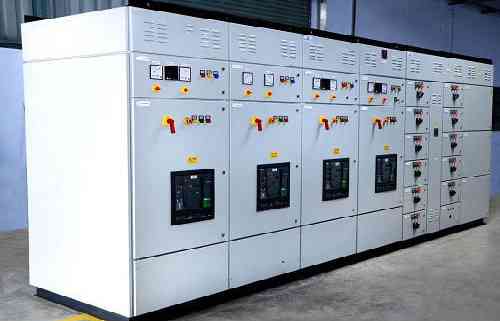 Electric Control Panels Technical Features:
An electric control panel is a collection of electrical components and devices that control, monitor, and regulate the distribution of electrical power in a facility. Some of its technical features include:
Circuit protection devices such as fuses and circuit breakers to prevent overloading and short-circuits.
Power distribution units (PDUs) to manage the distribution of electrical power to various electrical devices.
Metering devices to measure and monitor power consumption.
Control and monitoring systems to regulate and manage the operation of electrical equipment.
Emergency stop buttons for safety purposes.
Alarms and indicators to alert users of any power failures or faults.
Arrangement for heat dissipation by means of Exhaust Fan or Lowers.
Electric Control Panel Manufacturer from India
We, Nextgen Power Controls, is a fast growing company in the electrical field, specializing in the production of control panels and power distribution. We specialize in electric control panels for all types of industries. We have a full facility to test all types of switchboards. We have a professional management team to meet the highest quality standards to meet the needs of our customers.
When choosing an electric control panel manufacturer, it is important to consider the following factors:
Quality: Look for a manufacturer that uses high-quality components and materials, and has a track record of producing reliable and durable products.
Experience: Choose a manufacturer with a proven track record of designing and producing electric control panels, especially in your specific industry or application.
Customization: Depending on your needs, you may require a manufacturer that can customize the panel design to fit your specific requirements.
Support: Look for a manufacturer that offers technical support, installation assistance, and after-sales service to ensure that your electric control panel operates efficiently and safely.
Cost: Compare prices from different manufacturers to ensure that you are getting a competitive price for the quality and features you need.
Download PDF Datasheet
Ut enim ad minim veniam, quis nostrud exercitation ullamco laboris.
Download PDF