An Introduction To Electric Control Panels?
An electric control panel is an enclosure, typically a metal box or plastic moulding which contains important electrical components that control and monitor a number of mechanical processes. They are energised systems that require maintenance, with planned preventative maintenance and condition-based monitoring being the most effective methods. Electrical personnel will need to gain access within control panels for fault finding, adjustments, and Nextgen Power Controls. Operators interact with panel controls to operate and control the plant and process.Control components make many tasks easier, for example they can monitor the pressure or flow in a pipe and signal the opening or closing of a valve. They are widespread and an integral part of most industries. Problems with it, including negligence, can ruin any business and put employees at risk. This makes safe use of switchboards a desirable skill for both electrical and non-electrical workers.
Different Types of Electrical Control Panels
control panels come in many shapes and sizes. These range from a small box on the wall to long rows of cabinets placed in specific areas of the facility. Some controls are located in the control room and are overseen by a small team of production coordinators, others are near the machines and are overseen by a few production workers. Another form of control panel common in the India is the Motor Control Center (MCC) which includes all engine starting and control equipment for the operation of the heavy duty power station. The can include high voltage supplies such as 3.3 kV and 11 kV under certain circumstances.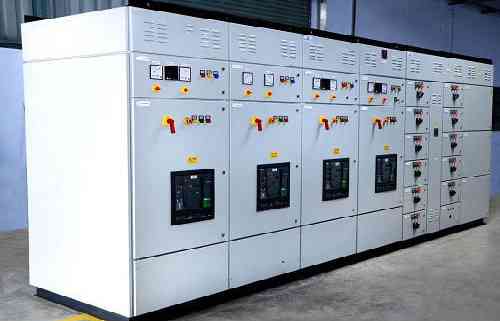 Technical Features:
An electric control panel is a collection of electrical components and devices that control, monitor, and regulate the distribution of electrical power in a facility. Some of its technical features include:
Circuit protection devices such as fuses and circuit breakers to prevent overloading and short-circuits.
Power distribution units (PDUs) to manage the distribution of electrical power to various electrical devices.
Metering devices to measure and monitor power consumption.
Control and monitoring systems to regulate and manage the operation of electrical equipment.
Emergency stop buttons for safety purposes.
Alarms and indicators to alert users of any power failures or faults.
Arrangement for heat dissipation by means of Exhaust Fan or Lowers.
An Introduction To Electric Control Panels
We, Nextgen Power Controls, is a fast growing company in the electrical field, specializing in the production of control panels and power distribution. We specialize in electric control panels for all types of industries. We have a full facility to test all types of switchboards. We have a professional management team to meet the highest quality standards to meet the needs of our customers.
When choosing an electric control panel manufacturer, it is important to consider the following factors:
Quality: Look for a manufacturer that uses high-quality components and materials, and has a track record of producing reliable and durable products.
Experience: Choose a manufacturer with a proven track record of designing and producing electric control panels, especially in your specific industry or application.
Customization: Depending on your needs, you may require a manufacturer that can customize the panel design to fit your specific requirements.
Support: Look for a manufacturer that offers technical support, installation assistance, and after-sales service to ensure that your electric control panel operates efficiently and safely.
Cost: Compare prices from different manufacturers to ensure that you are getting a competitive price for the quality and features you need.
Download PDF Datasheet
Ut enim ad minim veniam, quis nostrud exercitation ullamco laboris.
Download PDF